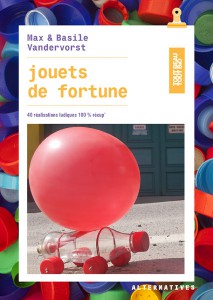 Here are 40 « makeshift toys » to share playful moments with the family. They were created from natural materials, recycled or gleaned from the roadsides of the world (Asia, Cuba, Africa …).
It offers an original way of traveling through the five continents, transferring their first do-it-yourself skills to one's own children, while developing their creativity, motor skills and concern for the environment.
Figurines, ships, windmills, catapults, whistles, small musical instruments, blowpipes, … a wide range of playthings to build, in no time at all and for next to nothing! Ecological, low-priced, and guaranteed to succeed!
A book to pass on – signed by Vandervorst and Son!
Photography: Basile Vandervorst
Published October 30, 2014
112 full-color pages, 14.8 x 21 cm, printed on recycled paper
13.50 €
ISBN: 978-207255-243-4
Press
« Max Vandervorst nous a déjà habitués à ces instruments incongrus, qui sont drôles, de réalisation aisée et qui produisent des beaux sons. Il revient ici avec son fils pour nous faire découvrir 40 réalisations ludiques « 100% récup ». Jouets du monde, véhicules et transports, sports et jeux, du vent et de l'eau, autant de chapitres aux propositions créatives et amusantes. Les explications pour la fabrication sont claires et des schémas et des jolies photos font qu'il est impossible de ne pas réussir » (Assadem.free.fr)
« Une façon originale de voyager sur les cinq continents, de transmettre les premiers gestes du bricolage… » (Bio Contact)
«  De beaux moments de partage intergénérationnel en perspective » (Symbioses)
« Invitation aux joies de la recup', du bricolage inventif et du cadeau fait maison, les toupies à tête traceuse, sarbacanes à répétition, fusées à eau et autres chaises de neige dament le pion aux jouets du commerce et insufflent un peu de magie dans nos quotidiens d'adultes débordés. 40 créations faciles à réaliser pour de beaux moments de partage intergénérationnel en perspective! » (Réseau Idées)