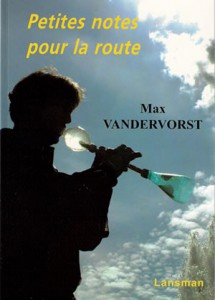 After more than twenty years of touring over highways and side-roads, Max Vandervorst experienced many major and minor adventures…
Some of these anecdotes – spectacular and ordinary – became imprinted in his memory through repeated reminiscing's. Small moments in time, chance meetings or amusing incidents, all of which bring forth questions or smiles concerning work, people, life…
These tales are delivered with a storyteller's flair, taking us as captives into his world.
Cover photo: Melisa Stein
Publisher: Lansman Éditeur
Collection: "Tales, short stories, narratives, testimonials"
Number of pages: 47
Format: 14.5 cm x 20.5 cm
Retail price: 10 € | $ 15.95 Can
ISBN: 978-2-87282-783-1
Publisher's comment
Au départ, l'auteur nous avait juste envoyé ses notes en nous demandant ce qu'il pourrait bien en faire. Dès la première lecture, nous avons évidemment établi un pont entre cette proposition de courtes anecdotes de vie et de tournée avec les "graines de théâtre" de Jean-Gabriel Carasso. Une histoire et une chute qui ouvre souvent le chant de réflexion de manière beaucoup plus large qu'il n'y paraît à première vue.
Le résultat est surprenant et devrait intéresser aussi bien ceux qui connaissent le travail de "lutherie sauvage" de ce musicien sans pareil, que ceux qui découvriront sa démarche à travers ses petites histoires parfois tendres, parfois critiques, mais toujours touchantes.